This is how we help with our digital transformation services
With a structured and evidence-based approach for our digital transformation services, we guide the digital transformation of your organization in 4 steps, taking into account both the rational and emotional aspects of the transformation.
Facilitation and moderation are at the heart
of our digital transformation services
To guarantee the result of our digital transformation services, each interactive workshop is carefully prepared to ensure that the task summary and desired goal are clear. Furthermore, during the workshop, the diversity within a group is managed so that everybody is motivated and willing to participate. Last but not least: to maximize the productivity of a session, the right tools and techniques are selected at the right moment.
This approach is really making a difference because, as an external facilitator/moderator, we have already facilitated more than 400 sessions and counting.
From the heart of facilitation and moderation, we can tap into different digital transformation services. The starting point is, in general, process optimization, technology, and change management.
Facilitation & Moderation
Guaranteeing the effectiveness & efficiency of the co-creation sessions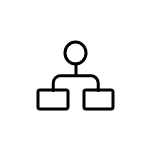 Digital process management
Mapping the processes, bottlenecks, possible optimizations, and tools in structured workshops
Technology
Choosing the technology in line with the long-term vision and matching the different systems to support the digital transformation.
Change management
A holistic approach and a clear plan for transformation to make sure rational elements and emotional elements are in balance from the start.
Service Design
A visual representation of the improvement in the interaction between service and the user, including UX and UI principles.
People
Improving the internal cooperation based on assessments, style preferences, and coaching.
Business Ambition & Strategy
The purpose, supported vision, and mission determine the course and priorities.
Data & analytics
Capturing data, interpreting data, and translating the data into management decisions.
Return on investment
Drafting business cases to make sure investments are justified.
Communication
Clear and consistent internal and external communication to guide people in the transformation.
Digital project management
Making sure the digital transformation projects are managed.
User research
Translating user needs into service design and processes.
Get in touch about the digital
transformation of your organization